I don't consider myself to be extremely fashionable. I don't scour the runways for inspo, keep up with magazines, or stan designers. I don't meticulously put together outfits every morning. Instead, my fashion motto lately has been "beauty from within" or "try to look effortless." This week, I'll be sharing a few easy tricks on how to look and feel put together. 
Hair up, winged liner, sharp lip
You may be thinking "I thought this was gonna be hacks for clothes! Why are you starting off with hair and makeup?"
Thing is, we look at somebody's face first. That's the feature that stands out the most. Some days, I will be in an oversize sweater and leggings but still look and feel presentable. Why? Because I'm business from the neck up.
Believe it or not, glam makeup doesn't take as long as natural makeup because there's not nearly as much blending involved. The tutorial for this look is available on Let's Learn Makeup.
Wear all black
There are many perks of wearing black, as hilariously summed up in an old Buzzfeed video. Most importantly, you never have to take too much time choosing what to wear….because everything already matches! 
Black pieces (ex. little black dress, black jeans, black satin blouse) are also the easiest to dress up. Got a semiformal event but can't be bothered to put effort into your outfit? No Problem! Wear black!
I have a love/hate relationship with my all-black dress code. I can throw an outfit together in less than a minute…but there's not much room for experimentation when I have to do that every day!
Pamper yourself once in a while!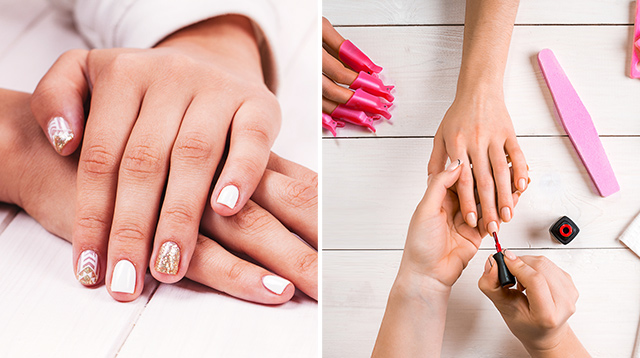 A big part of looking effortlessly put together is self care! When you feel confident and beautiful from within, it will show on the outside. So go ahead and get a manicure, or a facial, or your brows done. You can also treat yourself to a nice perfume or luxurious body creams.
Effective ways of pampering yourself varies from person to person. It takes experimentation to discover that you really enjoy. In my case, I don't care too much for perfumes, I do my own brows, and never get blowouts. However, nothing makes me feel more aligned than having my nails done! I usually do my own nails as me-time, but I also enjoy getting them done. Lately, I've also been trying out body care products like scrubs, oils, and butters.
Pay attention to counter balance
I don't mean this as in pay attention to posture- which is important too. If you're wearing a looser top (ex. oversize hoodie, flowy blouse), wear more fitted bottoms. If you're wearing looser bottoms (ex. maxi-skirt, culottes) wear a more fitted top. If your whole outfit is fitted, you can juxtapose that with chunky accessories, an oversize bag, or a large scarf.
Looser tops with looser bottoms aren't impossible to style well together. Personally, I wouldn't wear the two together because the silhouette doesn't work well on most people. To me, a good silhouette flatters your waist, legs, or both.
Hugs and kisses,
~ Jin
You can also find me on my personal blog