I had been planning to do the monthly OOTD post, but I caught a cold and I'm feeling too icky to take pictures of myself. Since my first Timelessly trendy clothing combinations post was well received, I decided to do another one with more cold weather appropriate outfits.
Dressed up in a white oversize sweatshirt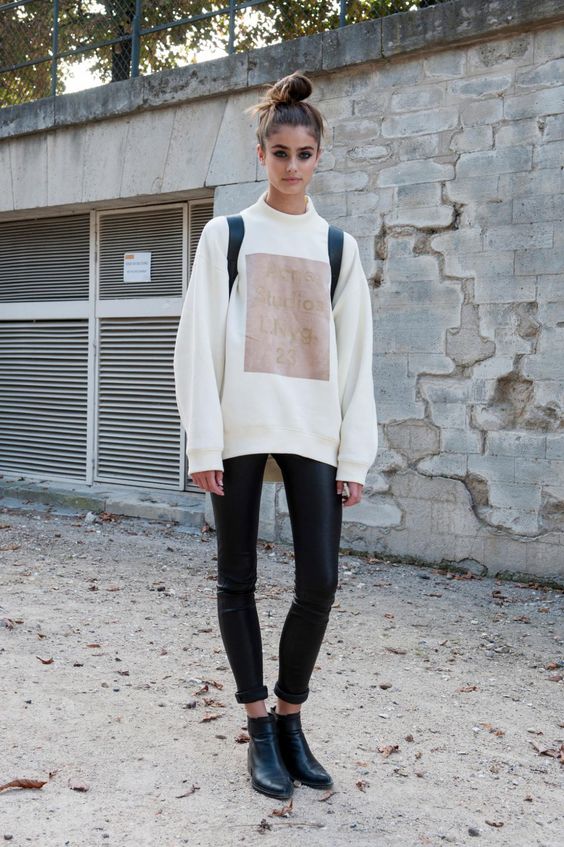 I saw a picture of Ariana Grande wearing a white oversize hoodie at a concert. It amazed me how she could look so put together in something so simple. My outfit for casual Fridays ever since has been oversize hoodies with my hair up and makeup done. Of course, you can look put together in any oversize hoodie or sweatershirt, but there's just something about a white one that speaks to me. Perhaps it's the brightness and cleanliness of it. Anyone who wears a lot of white would know that it's a high maintenance colour!
Black jeans and red flannel
There are a lot of possibilities with this clothing combination. You can wear a graphic tee and tie the flannel at your waist. You can layer the flannel with a moto jacket. You can dress it up with accessories and ankle boots. Or go for a punk look by wearing distressed black jeans. There are so many ways you can work this combination to suit the look you're going for. I was recently at a super casual party in an oversize red flannel and black leggings. That day, I also opted for glasses instead of contact lenses.
Cargo jacket with combat boots
Let's not neglect outerwear! I love the oversize top and slim bottoms silhouette. An oversize cargo jacket with combat boots is a fashionably grungy look. It's comfortable, practical, warm, and grungy but not messy. You could pair the jacket with sneakers, but combat boots give it more of a rebellious vibe.
I used to never wear my green cargo jacket because of how huge it is. But this year, I decided to give it a fair shot and I've been loving it! It's so easy to throw on and it's comfortable to commute in! Plus, it has actual pockets, which is a blessing in women's wear.
Cardigan and graphic tee
Lately, I've been wearing graphic tees with a long black cardigan to work. One of my fashion quirks it that I can't stand wearing blazers. I used to always wear a cardigan instead. There was a window of time this summer when I tried to suck it up and wear a blazer. I had recently started working in a more upscale place and needed to look more put together. But lately, I've been reverting back to my aversion towards blazers.
What I like about cardigans is that you can still get a streamlined, polished, look with them. It depends on which shape you choose, and cardigans come in all shapes and lengths! So if you're like me and find blazers restriction, here's another option!
Hugs and kisses
~Jin
You can also find me on my personal blog